fenty pro filt'r instant retouch
We're big Fenty fans and this concealer is a fav, but be warned it is pretty full coverage and very matte. Excellent if you're hiding a pimple or super dark circles, but it did crease quite a bit in our bottom eyelids and make pores slightly visible. That said, it blends very well with the Fenty foundation and the shade numbers even correspond with one another. A little bit of this one goes a looong way.
too faced born this way naturally radiant
Don't sleep on Too Faced! We love the medium coverage of this one. It blends nicely and isn't too thick, but it does crease a bit. Damn those f*#%ing creases! Even still, this is a good choice if you want to brighten up substantially without looking like you're wearing a ton of makeup.
wet n wild photo focus
Believe it or not, this is the closest dupe we've found for our beloved NARS Radiant Creamy Concealer. Hannah was so excited after trying this one that she immediately texted 3 friends to tell them to buy it. This med-full coverage concealer doesn't settle in creases and blends in with skin flawlessly. It's dries down matte but doesn't look cakey or flakey. You can pick this up at your local drugstore but for the full variety of shades it's best to order directly from their website. Even with two other high end concealers in our drawers we find ourselves wearing this one the most. For only $5 there's really no reason not to try it.
milk makeup flex
This lil cutie comes in squeeze tube packaging and still has an applicator stick so you can get out every last drop. It comes in a wide range of shades and is a relatively thin formula. It's marketed as a full-coverage concealer but we think she's more of a medium-coverage. Besides the formula creasing a bit more than we'd like, the major downside was the stopper in the bottle kept falling out! So although the packaging is cute and seems efficient, there is clearly a design flaw. However, this is the only concealer (besides wet n wild) that we bought more than once so the formula definitely brings something nice to the table.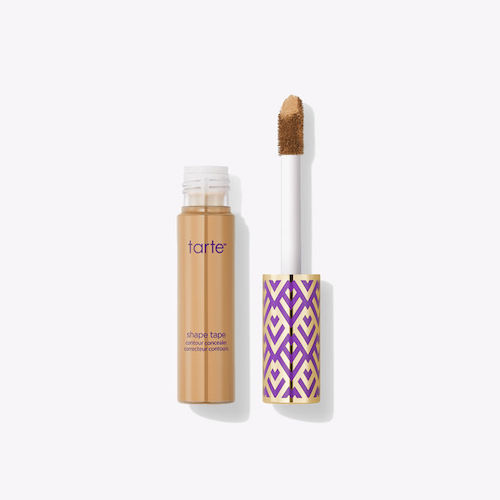 tarte shape tape
If you're looking for ultra matte full coverage this might be your jam. This product has made such a name for itself that one of these is sold every 12 seconds. The applicator is the chubbiest doe foot (lol yes this is the actual term) we've ever come across which allows for a lot of product delivery in one swoop. You could potentially use this as a full coverage foundation or do some serious highlight and contouring. Due to the amount of coverage, it's not ideal for minimal makeup days (if you're skipping the foundation you'll want to mix Shape Tape with a lesser coverage concealer or apply it VERY minimally). Shape Tape comes in 30 shades and is vegan!
urban decay naked skin weightless
One of the more accurately named products we've come across, this stuff really does blend weightlessly into your skin. The formulation is so lightweight that on days we only used concealer we forgot we were wearing any at all! The formula is creamy yet thin so if you're aiming for a lot of coverage you'll want to use more than just a few swipes. Don't worry though, it will still look like your now flawless complexion is au naturel.